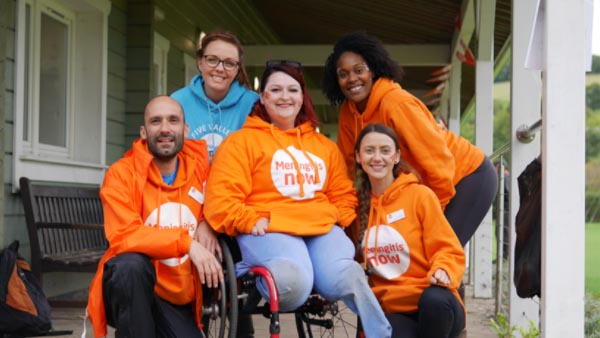 Charity client: Meningitis Now
Based in Stroud, Gloucestershire, Meningitis Now supports people across the UK who have been affected by or at risk of meningitis. Following the departure of the charity's Trust Fundraiser, they wanted to commission a review of its trust fundraising performance and recommendations for maximising income and improving the quality of its trust fundraising work.  
Fundraising Consultants Ltd – why us?
After reviewing the support offered by several consultancies and freelancers, Meningitis Now's Director of Fundraising met with Sarah to discuss the proposal.  They selected Fundraising Consultants because of the combination of strategic and 'hands on' experience, and because of Sarah's extensive experience in raising funds for health, wellbeing and medical charities.
Trust fundraising and interim fundraising management for Meningitis Now
Over a twelve-month period, we supported Meningitis Now in three ways:
Trust fundraising audit

: This three-day piece of work involved a detailed review of the charity's fundraising performance, strengths, weaknesses and opportunities. The review  included a brief look at the other income streams and at the wider organisational issues to address in order to take their trust fundraising to the next level. The resulting report included detailed recommendations.

Interim Trust Fundraising Manager: Following on from the audit, Sarah was invited to interim manage Meningitis Now's trust fundraising over a six-month period, to implement the recommendations outlined in her report. This involved recruiting, training and managing a Trust Fundraiser and several fundraising volunteers, writing funding applications and reports, speaking with and meeting funders and prospective trust supporters. Over this time I worked with the team to put the right foundations and processes in place to improve the charity's trust fundraising performance and increase income; these database and data 'cleaning' work, funding research, stewardship, better reporting on income and activities and improving the quality of funding applications, producing meaningful This, along with an increased investment in thanking and stewarding trust supporters, paid off and over time, we saw some great results.  Our biggest success was  in successfully securing a grant of £480,000 from the Lottery.   
Interim Events Fundraising Manager:

Once a full-time, inhouse Trust Fundraiser was in post, I was asked to interim line-manage the Events Fundraising Team for a period of three months. Events is a major area for Meningitis Now and, at the time, was bringing in around £1 million of income each year.  Most of the team were based remotely, including in Scotland and Northern Ireland and worked with supporters in their region to raise funds for the charity through supporter-led and charity fundraising events. Remote staff struggled to feel part of the main organisation, relationships with colleagues in other departments needed strengthening and the team were working hard but were struggling with unmanageable workloads and competing priorities. Starting with a two-day team away, I worked with the team to develop a three year strategy, with a month by month action plan. We worked together to improve our time management and everyone 'dropped' at least one non essential activity or areas of work. By the end of the financial year  we had exceeded our income target and the team were managing their time better, working to clear goals and raising more funds. 
What the client says

"Meningitis Now asked Sarah to do a three day audit of the charity's trust fundraising. We were so impressed that we asked her to manage our Trust Fundraising on an interim basis.  One year on Sarah remains a highly valued member of the team. Her expertise and diligence have combined to achieve great results. She's successfully secured several major grants including £480,000 of Lottery funding and will leave a legacy of improved trust fundraising processes and capabilities. She has built strong relationships with our existing trust supporters and has helped us identify new funding opportunities. Sarah is a pleasure to work with and I thoroughly recommend her." Beth Bottrill, Director of Fundraising, Meningitis Now.